U-FORM®, an international award winning, high speed, integrated construction technology for use in the construction of super energy efficient, superior, reinforced concrete, medium-to-high rise buildings.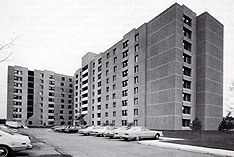 Brashear Tower Apartments
Livonia, Michigan
Siegal-Toumaala Architects
HUD Project #29-0013-043
9 stories, 196 units
10 month construction time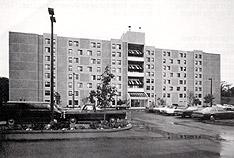 Chidester Apartments
Ypsilanti, Michigan
Siegal-Toumaala Architects
HUD Project #28-0005-013
8 stories, 151 units
8 month construction time
U-Form® Technology offers a completely new approach to building construction. No load-bearing masonry… no conventional, independent, steel or reinforced concrete column and beam framing systems. Instead, one simple step operation creates both the formwork and a unique, integrated, poured-in-place, structural concrete grid frame, and the total permanent, pre-veneered walls. The building goes up quickly, in record time.
Insulation and vapor barriers in the U-Forms provide an ideal "autoclave" environment for curing the reinforced concrete such that concrete poured one afternoon is capable of accepting floor and/or roof loads the following morning i.e., design strength can reach bearing capacity within 24 hours.
UL fire tests exceed 4 hour ratings!
Energy savings of 50% or more as confirmed by the US Dept of Energy, Detroit Edison Company, and Honeywell Corporation.
Structural capacity confirmed by independent tests designed and supervised by Lev Zetlin, Ph. D., P.D. F.A.S.C.E, internationally renowned structural engineer and consultant.
Awards

Best of Techex/Unit Award
TechExcellence Awards Program
World Fair for Technology Exchange, for the "Invention and Development of Integrated Construction"
Fusion Energy Foundation Award for the development of "Integrated Construction/U-Form Technology as a demonstrated energy technology or process that offers the greatest potential improvement in productivity of energy production and utilization in advanced or undeveloped societies;"
Tribute: State of Michigan, for the development of Integrated Construction/ U-Form Technology which "may prove to be an answer to many of society's most threatening problems."
Hall Of Fame Award, Inventors Club of America" for "Outstanding Creative Achievement in the Endeavor to Benefit Man and his World."
U-Form® Technology is protected by patents issued and pending, and is available for sale and/or license arrangements. A Non-Disclosure/Secrecy Agreement is required for additional information.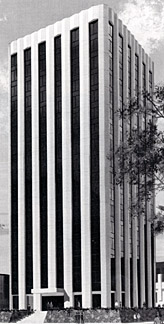 Proposed building for First National City Bank
Paseo De La Reforma, Mexico, D.F.
Estudios Y Desarrollos Inmobiliarios, S.A. & Sachs Associates, Inc., Architects
– 17 stories above ground
– 5 parking levels below
– Seismic 3 zone
U-FORM® is the registered trademark of Integrated Construction Technologies Corporation.